Are you worried that nothing about your College application will stand out? Do you think that your SAT scores and GPA are going to prevent you from getting into a great college? Are you struggling with your essay topics and wondering what to write that will catch the attention of the admissions officer?
You're not alone. Every student (and parent) in the country right now is feeling the stress that comes with the College Application process and worrying about the best way to approach the most important step of their academic career. Fortunately, we've seen that when students use the right tools, they can create a memorable application with a minimal amount of effort. An application that will "wow" the admissions office and dramatically increase the students chances of getting accepted into their top-tier schools..
Our Get Accepted system has been expressly designed to give our students a competitive advantage over other students with similar grades, test scores and backgrounds. At the same time, the program will completely remove the stress associated with the application process for students and parents alike. Bringing the best of our expert admissions advice and experience, we will share our proven strategies that have consistently placed his students at top-notch universities.
It's no secret that getting into college is one of the most stressful things students and parents will face this academic year. Top tier schools are so competitive that many are accepting less than 10% of qualified applicants. Even colleges and universities once considered "safety schools" are turning away students in record numbers.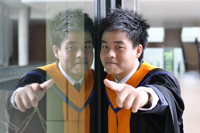 The stakes are higher than ever before and we must give our students every competitive edge possible to gain admissions into the college of their dreams. To enable you and your child to make that dream come true, Patrick Cunningham, one of the most dynamic and sought after speakers in the world of college admissions, has put together this two DVD college admissions seminar along with our propriety manual and checklists to guide you through the college admissions process.
Throughout our two DVD program, Patrick provides students and their parents with all the insider information they need to successfully navigate the college admissions process. After watching the DVD's you can follow up anytime with our intensive manual and follow up checklists.
As a Princeton graduate and prestigious Marshall Scholarship recipient, Patrick Cunningham has worked as an SAT tutor and private college admissions counselor in London, New York and Beverly Hills with stellar results.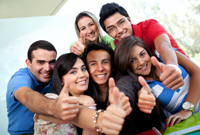 Not only has Patrick tutored Hollywood royalty and English aristocrats, he's also worked with students from some of the lowest-performing schools in the Los Angeles Unified School District. Yet, whether they attend an inner-city charter or a fancy prep school, Patrick's students have consistently gained admission into the nation's top universities year after year.
Now is the time for you to stop stressing on you college application process and let Patrick and the Get Accepted System help you get into the college of your dreams.
The Admissions Advantage Program Will Get You Into The Best School Possible… So You Can Get The Best Job Possible… So You Can Live The Best Life Possible. We Guarantee It!